In a world where personal style is celebrated, fashion enthusiasts are constantly seeking unique ways to express themselves. One such art form that has gained popularity is bead embroidery onto clothing. This exquisite technique involves the meticulous stitching of beads onto fabric, creating stunning designs and adding an element of texture and vibrancy to any garment. From delicate floral motifs to bold geometric patterns, bead embroidery onto clothing offers endless possibilities for creating one-of-a-kind pieces. In this article, we will delve into the captivating world of bead embroidery onto clothing, exploring techniques, inspirations, and FAQs to help you embark on your own creative journey.
Bead Embroidery onto Clothing: An Introduction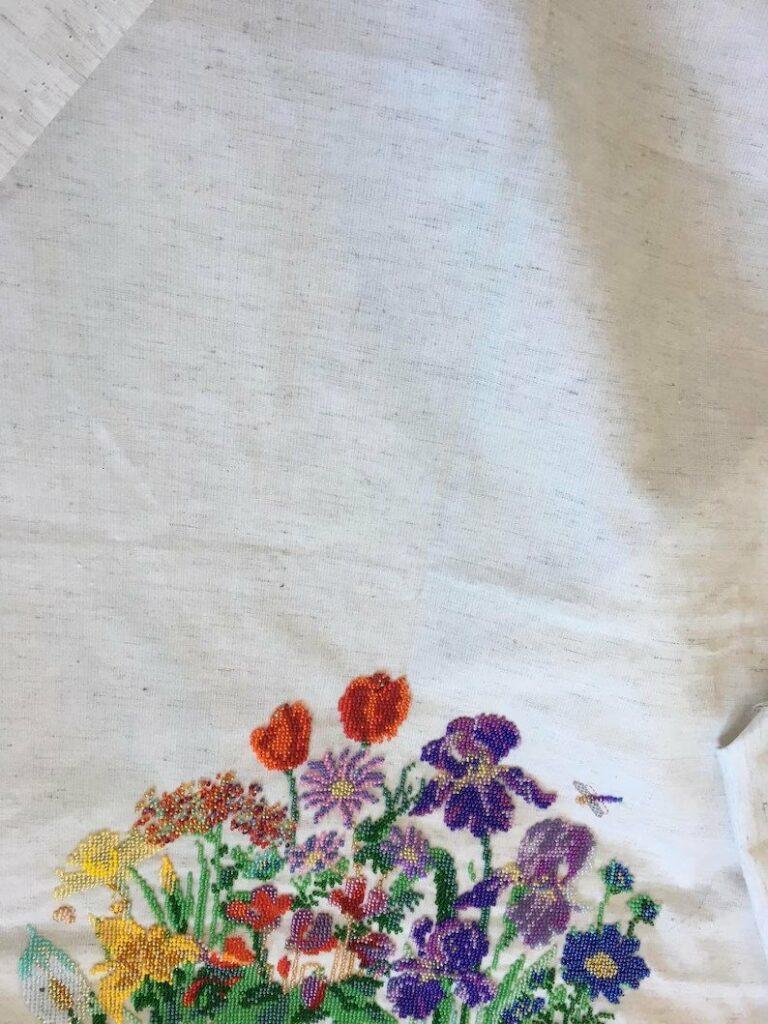 Bead embroidery onto clothing is a technique that combines the art of embroidery with the addition of beads, creating a visually captivating and tactile experience. This art form has a rich history, with origins dating back centuries. It has been practiced by various cultures around the world, each adding their unique style and flair to the craft. Today, bead embroidery onto clothing has evolved into a contemporary form of artistic expression, allowing individuals to infuse their garments with a touch of personalized luxury.
Exploring Different Beading Techniques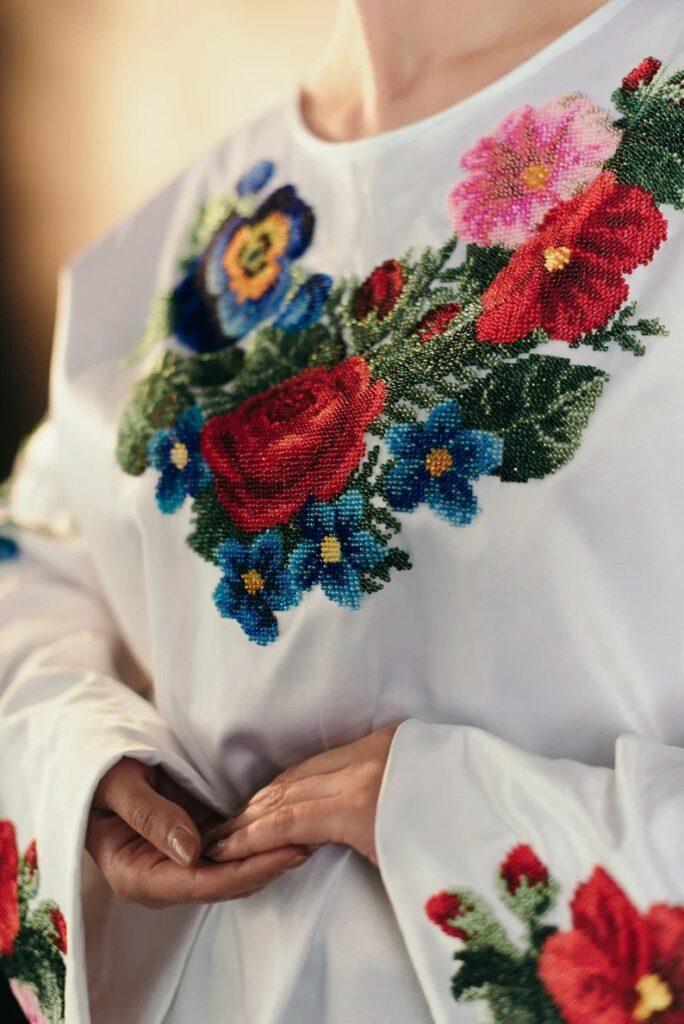 Traditional Bead Embroidery Traditional bead embroidery involves using a needle and thread to stitch beads onto fabric, following a predetermined pattern. This technique often incorporates traditional motifs and designs that reflect the cultural heritage of a particular region or community. The stitches used in traditional bead embroidery can vary, including backstitch, running stitch, and couching stitch, among others.
Contemporary Bead Embroidery Contemporary bead embroidery pushes the boundaries of traditional techniques, allowing for experimentation and innovation. It embraces a more eclectic and artistic approach, incorporating a wide range of bead sizes, shapes, and materials. Contemporary bead embroidery often involves the use of mixed media, combining beads with sequins, crystals, and even unconventional objects like feathers or shells.
Tools and Materials for Bead Embroidery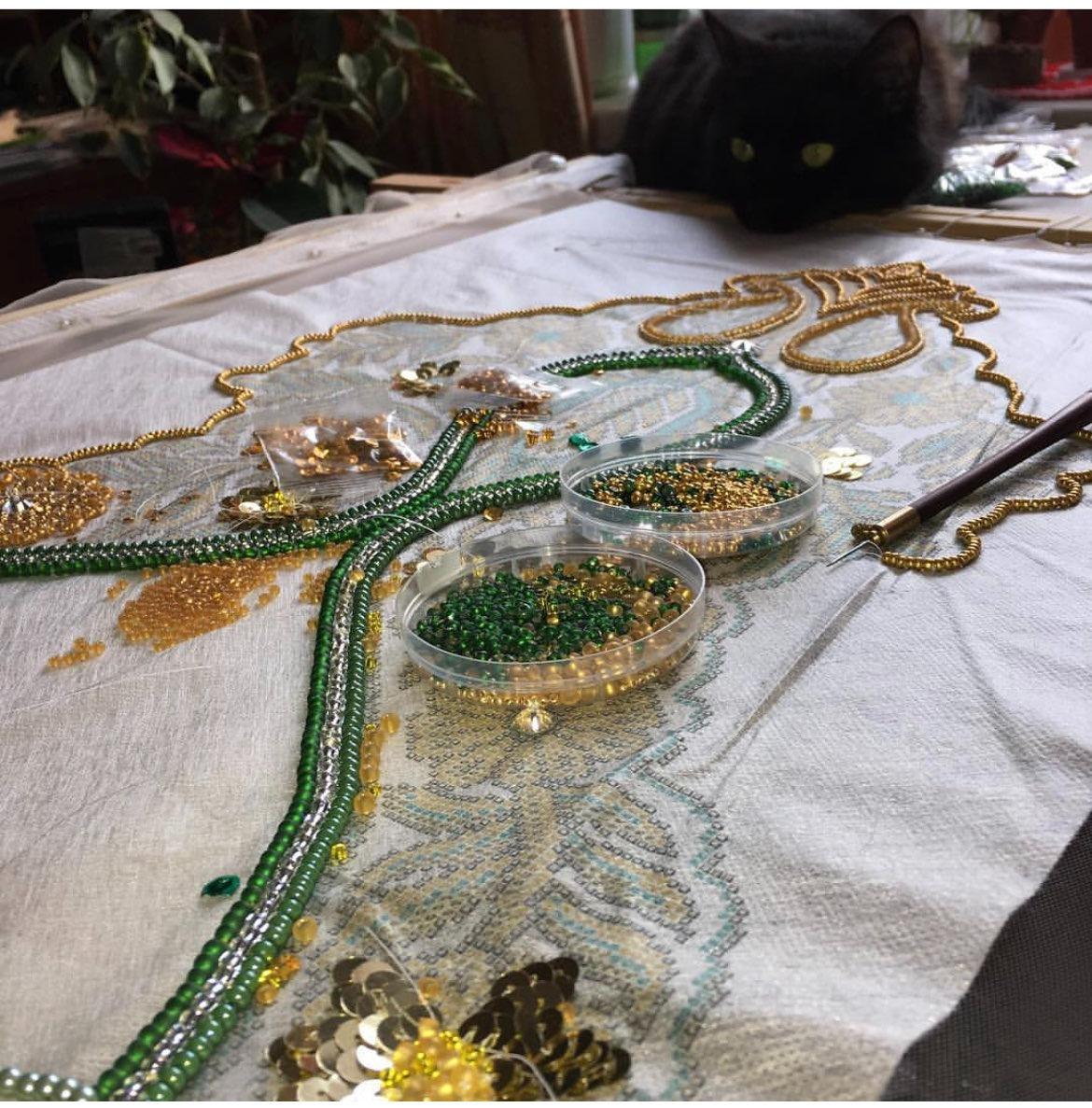 Needles and Threads Choosing the right needle and thread is crucial for successful bead embroidery onto clothing. Beading needles are long and thin, with a small eye that allows for easy threading of beads. Threads should be strong and durable, such as nylon or silk thread, to withstand the weight and tension of the beads.
Beads and Sequins The selection of beads and sequins is an essential part of the bead embroidery process. Beads come in various materials, such as glass, plastic, metal, and natural gemstones, each offering its unique texture and luster. Sequins, on the other hand, add a touch of shimmer and dimension to the embroidery.
Fabric Selection When choosing fabric for bead embroidery, consider its weight, stability, and color. Lightweight fabrics like silk or chiffon are ideal for delicate and flowing designs, while heavier fabrics like denim or canvas can support bolder and more intricate beadwork. The color of the fabric should complement the chosen beads, ensuring a harmonious overall effect.
Getting Started: Step-by-Step Guide to Bead Embroidery onto Clothing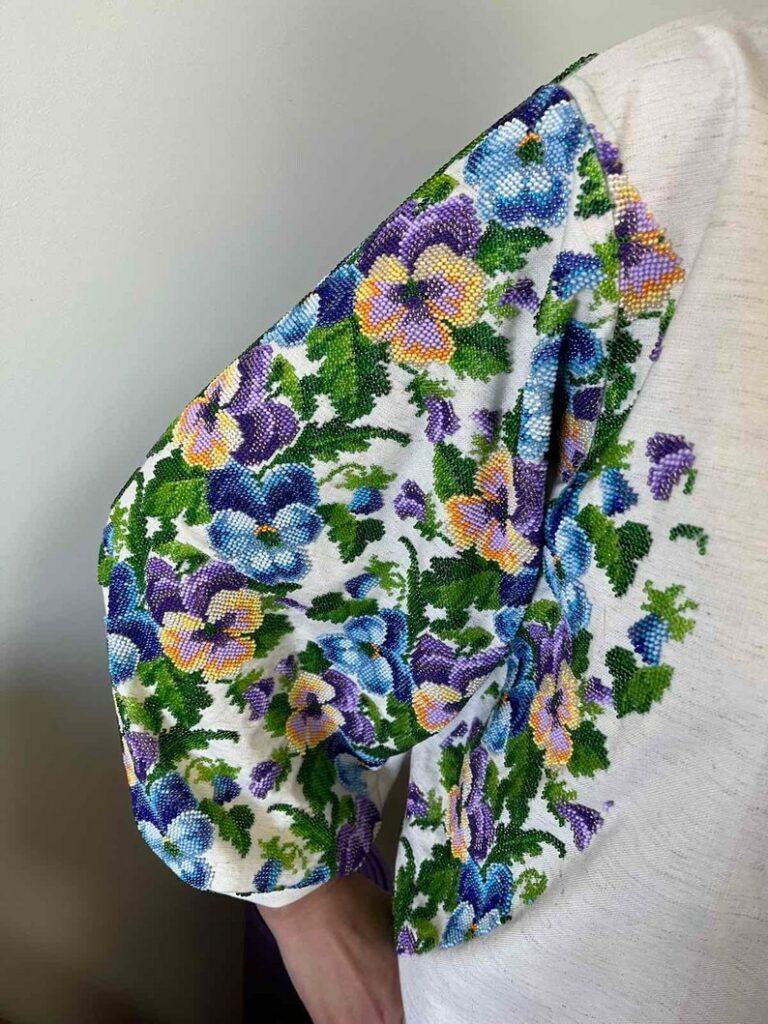 Designing Your Pattern Before diving into bead embroidery, take time to conceptualize and design your pattern. Consider the placement of beads, the desired motif, and the overall aesthetic you wish to achieve. Sketch your design on paper or use digital design tools to visualize your ideas.
Transferring the Design Once you have your pattern, transfer it onto the fabric using transfer paper, a lightbox, or by tracing the design directly. Ensure that the transferred lines are clear and visible, as they will serve as your guide during the embroidery process.
Starting the Embroidery Begin by securing the thread at the back of the fabric and bring it to the front, close to the starting point of your design. Thread the beads onto the needle and carefully stitch them onto the fabric, following the pattern you created. Use the appropriate stitches for the desired effect, such as backstitch for outlines or seed stitch for filling areas.
Adding Dimension with Layering Techniques To create depth and dimension in your bead embroidery, experiment with layering techniques. This involves adding multiple layers of beads and sequins, strategically placing them to create a sense of depth and texture. Play with different bead sizes, colors, and shapes to achieve a visually captivating result.
Inspiration from the Runway: Incorporating Bead Embroidery onto Clothing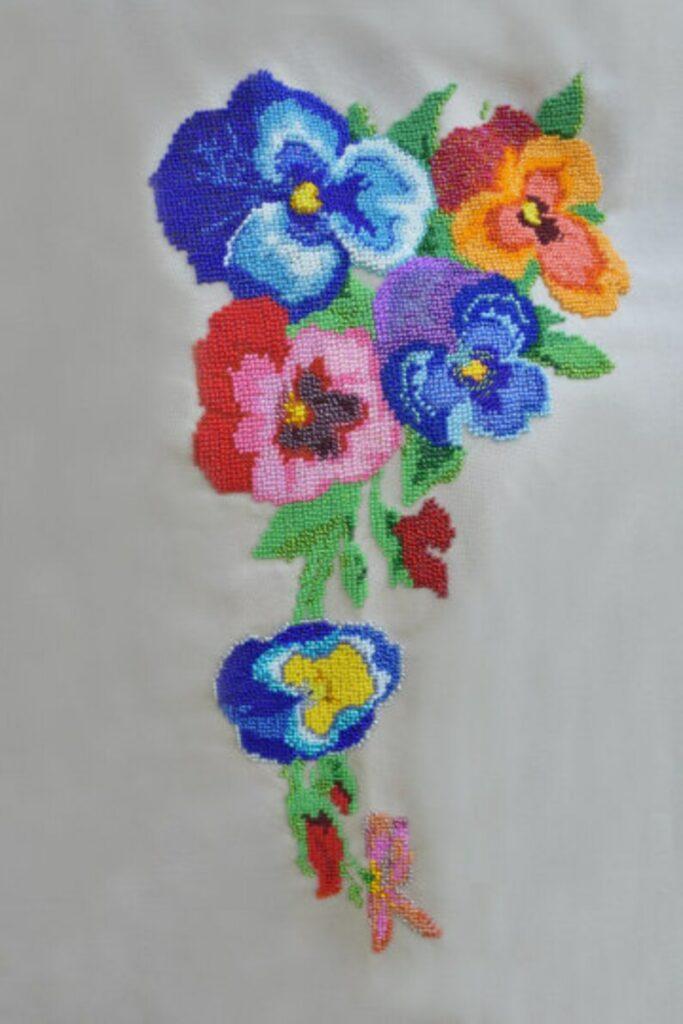 The world of fashion often serves as a rich source of inspiration for incorporating bead embroidery onto clothing. Designers frequently feature beadwork in their collections, showcasing the versatility and beauty of this art form. Explore fashion magazines, runway shows, and online resources to gather inspiration and discover innovative ways to incorporate bead embroidery onto your garments.
Tips and Tricks for Successful Bead Embroidery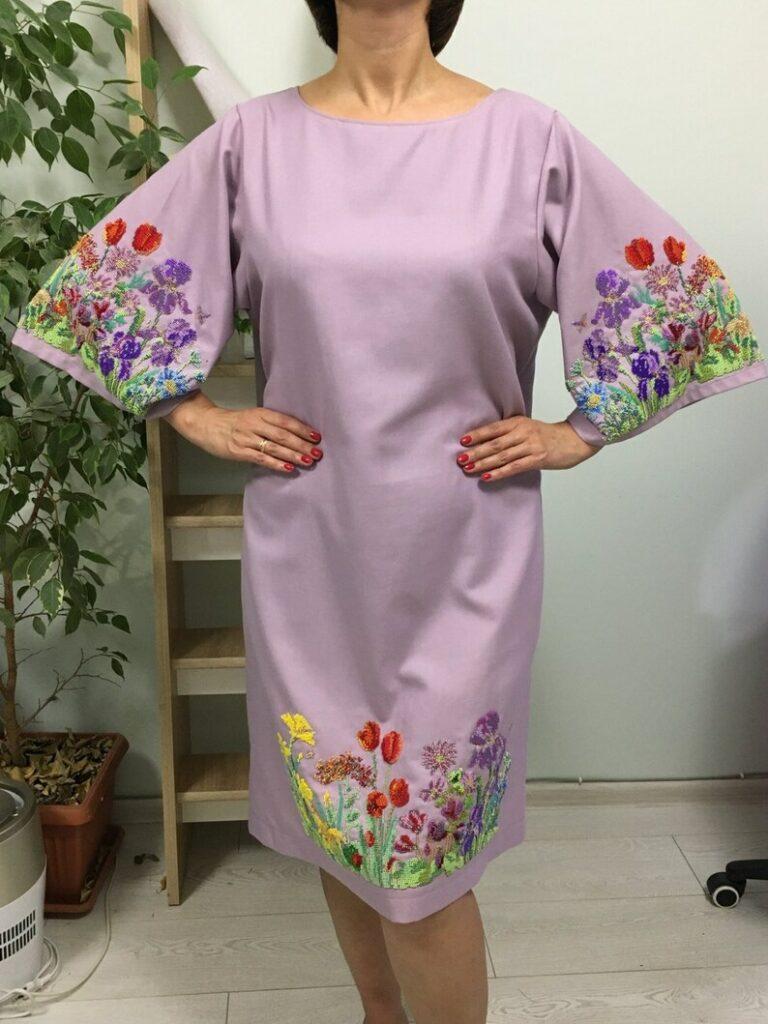 Preparing Your Workspace Before you embark on your bead embroidery journey, ensure you have a clean and organized workspace. Clear any clutter, have all your tools and materials within reach, and set up proper lighting to avoid eye strain. A well-prepared workspace sets the stage for a focused and enjoyable creative process.
Securing Beads and Knotting Techniques To prevent beads from slipping or falling off, it is essential to secure them properly. Make small knots between each bead or use a backstitch technique to reinforce their position. Practice different knotting techniques to find the one that works best for your chosen beads and fabric.
Creating Balance and Symmetry Achieving balance and symmetry in your bead embroidery design is crucial for a visually pleasing outcome. Take time to plan and measure your design, ensuring that elements are evenly distributed and aligned. Use a ruler or measuring tape to maintain consistency and precision throughout the embroidery process.
Frequently Asked Questions (FAQs)
Can bead embroidery be done on any type of fabric? Yes, bead embroidery can be done on various types of fabric. However, it is important to consider the fabric's weight, stability, and texture. Lightweight fabrics like silk or chiffon are suitable for delicate beadwork, while heavier fabrics like denim or canvas can support more substantial bead embroidery.
What types of beads are suitable for embroidery? A wide range of beads can be used for embroidery, including glass beads, seed beads, bugle beads, and gemstone beads. The choice of beads depends on the desired aesthetic, texture, and color palette of your embroidery project.
How do I choose the right needle and thread for bead embroidery? When choosing a needle for bead embroidery, opt for long and thin beading needles with a small eye. As for thread, select strong and durable options such as nylon or silk thread that can withstand the weight and tension of the beads.
Can I wash clothing with bead embroidery? While bead embroidery adds beauty to clothing, it requires special care during washing. It is recommended to hand wash garments with bead embroidery or use the delicate cycle on your washing machine. Place the garment in a mesh laundry bag to protect the beads from getting tangled or damaged.
How long does it take to complete a bead embroidery project? The time required to complete a bead embroidery project varies depending on the complexity of the design, the size of the garment, and the individual's skill level. It can range from a few hours for a small accessory to several weeks for a larger and intricate piece.
How do I care for garments with bead embroidery? To ensure the longevity of garments with bead embroidery, it is advisable to handle them with care. Avoid excessive stretching, pulling, or snagging the beadwork. Store the garments flat or hang them carefully to prevent beads from getting crushed or dislodged.
Conclusion: Unleash Your Creativity with Bead Embroidery onto Clothing
Bead embroidery onto clothing offers a captivating way to infuse your wardrobe with personalized artistry and style. From intricate patterns to bold statement pieces, the fusion of beads and fabric creates a visual feast for the eyes. Explore the endless possibilities of bead embroidery, experiment with techniques, and let your creativity soar as you embark on this artistic journey. With patience, practice, and a touch of imagination, you can elevate your clothing to wearable works of art.