Bead embroidery on clothing is a timeless art form that combines the beauty of beads with the elegance of embroidery. This exquisite technique allows designers and fashion enthusiasts to add a touch of uniqueness and craftsmanship to their garments. Whether you're looking to revamp an old piece of clothing or create a stunning custom design, bead embroidery offers endless possibilities. In this article, we will delve into the fascinating world of bead embroidery on clothing, exploring its history, techniques, and the creative ways it can elevate your style.
What is Bead Embroidery on Clothing?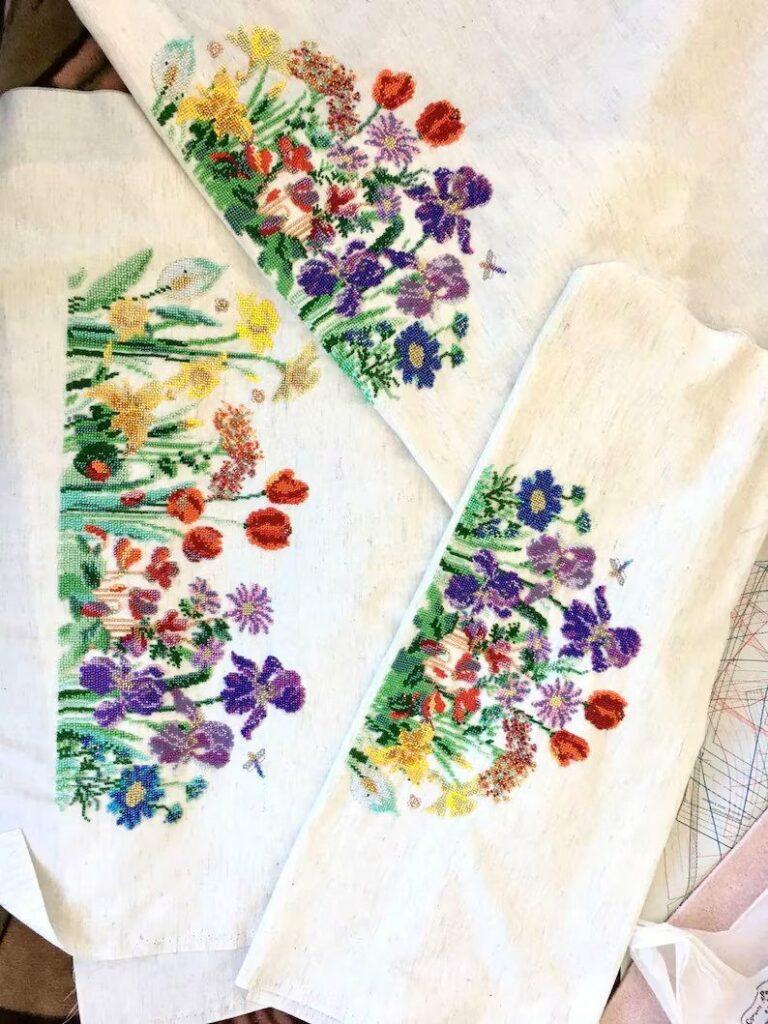 Bead embroidery on clothing is the process of adding beads to fabric to create decorative designs. This technique has been used for centuries in cultures all over the world. In some cultures, bead embroidery was used to indicate social status or as a form of storytelling. Today, it is a popular way to add a unique touch to clothing and accessories.
Bead Embroidery on Clothing: A Brief History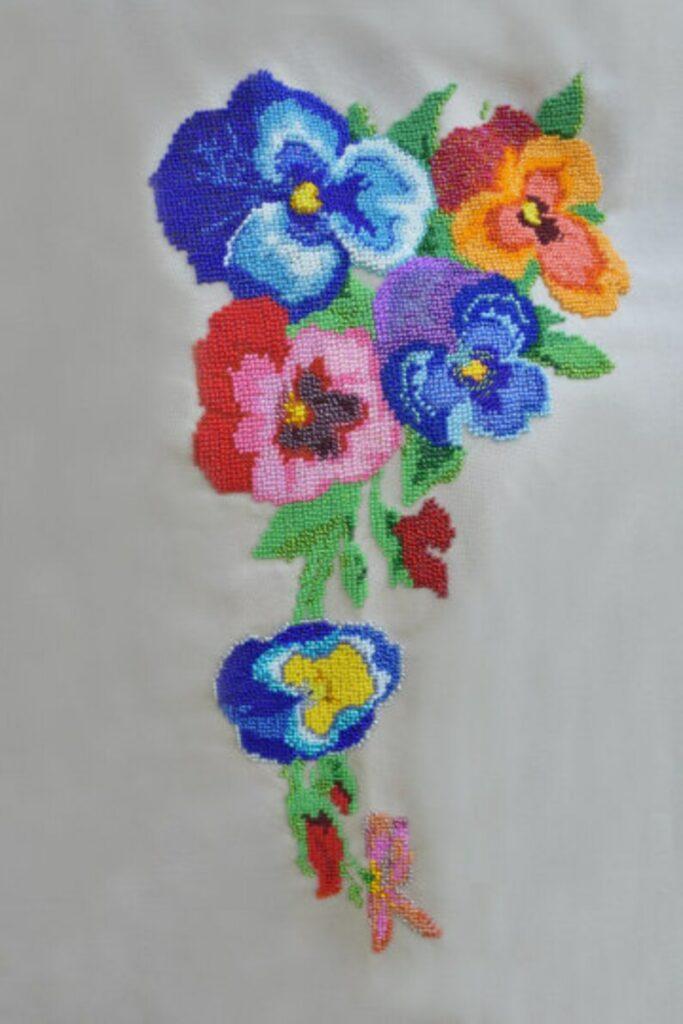 Bead embroidery has a rich history dating back thousands of years. This ancient craft has been practiced by various cultures around the world, including Native Americans, Egyptians, and Chinese. Initially used for ceremonial purposes, bead embroidery gradually evolved into a decorative art form for clothing and accessories.
In Native American culture, beadwork served as a means of storytelling and expression. Vibrant colors and intricate designs conveyed cultural significance and individual identity. Similarly, in ancient Egypt, bead embroidery adorned the garments of royalty, symbolizing power and wealth. The art of bead embroidery has continued to evolve over time, blending traditional techniques with modern aesthetics.
Materials Needed for Bead Embroidery on Clothing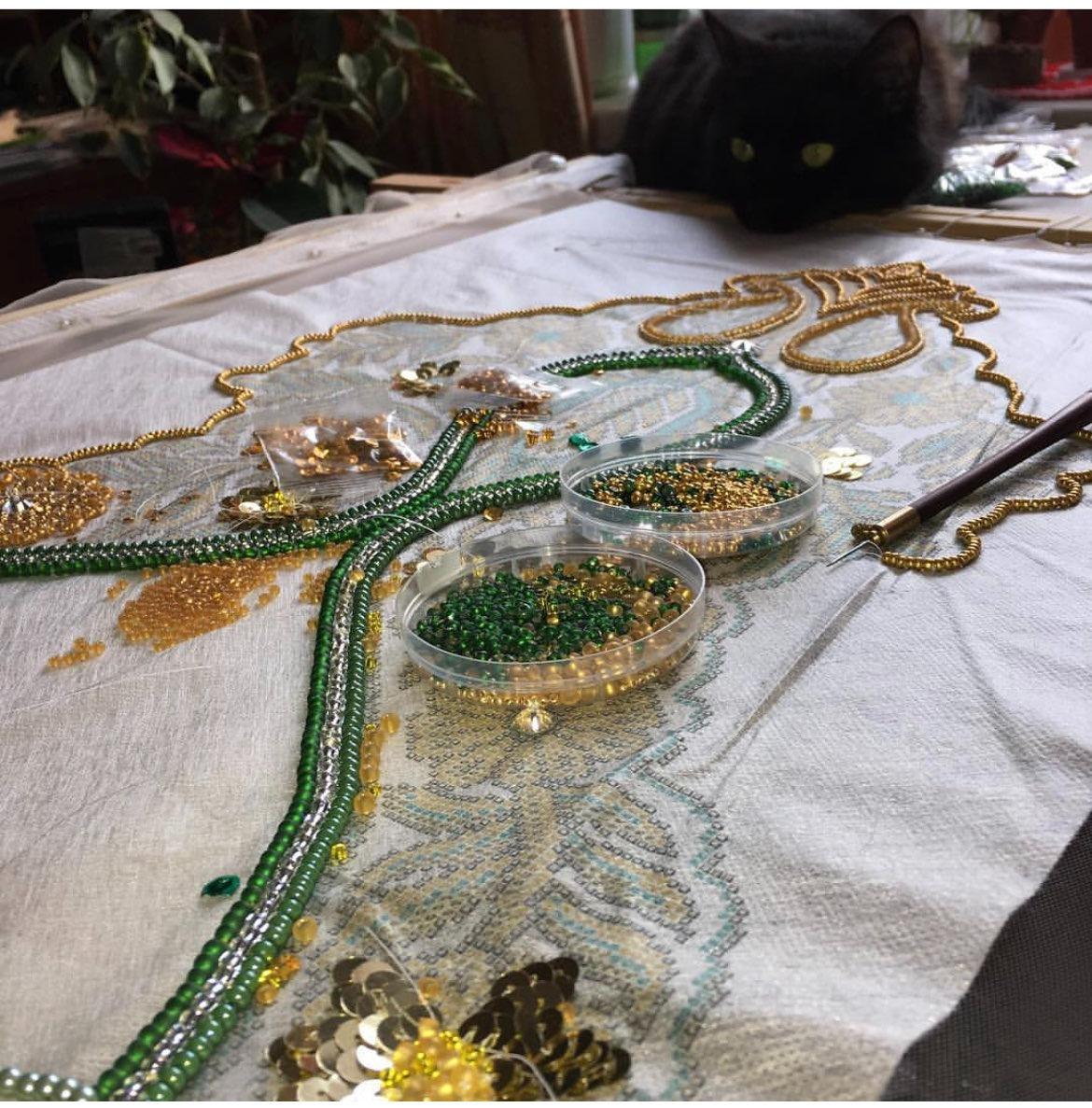 To get started with bead embroidery on clothing, you will need the following materials:
Fabric
Beads
Needle
Thread
Scissors
Types of Beads to Use for Bead Embroidery on Clothing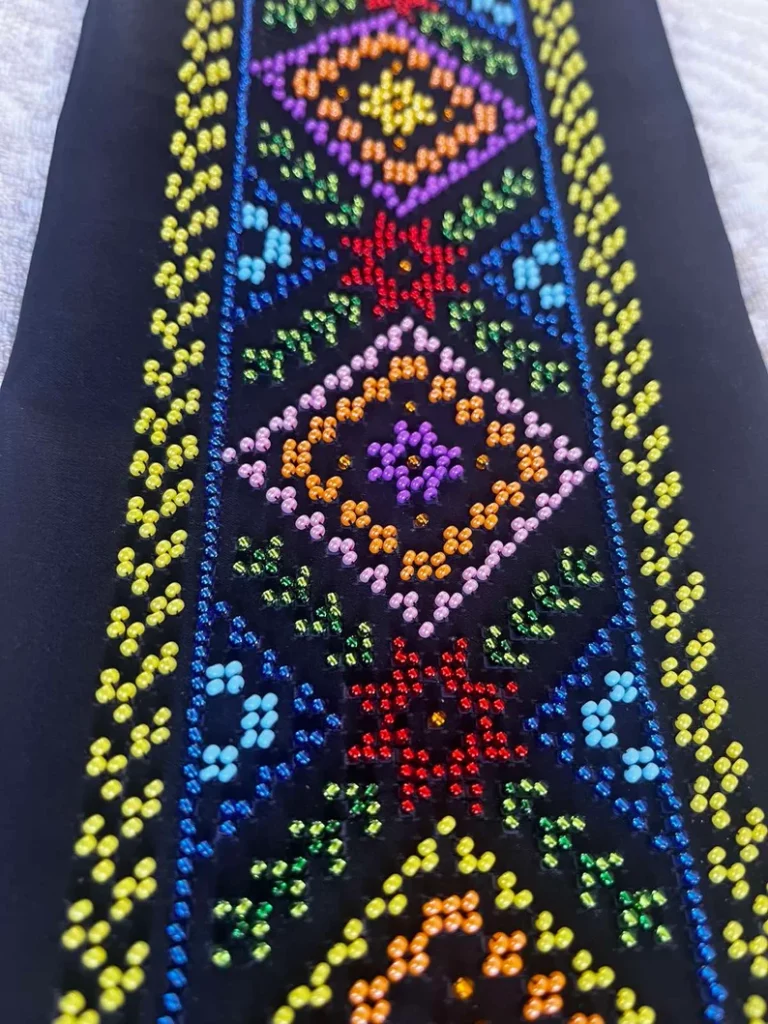 There are many different types of beads that can be used for bead embroidery on clothing. Some popular options include:
Seed beads: These are small, uniform beads that come in a wide variety of colors.
Bugle beads: These are long, tube-shaped beads that can add texture to your designs.
Delica beads: These are small, cylinder-shaped beads that are often used for intricate designs.
Glass beads: These beads come in a wide variety of shapes, sizes, and colors.
Types of Fabric to Use for Bead Embroidery on Clothing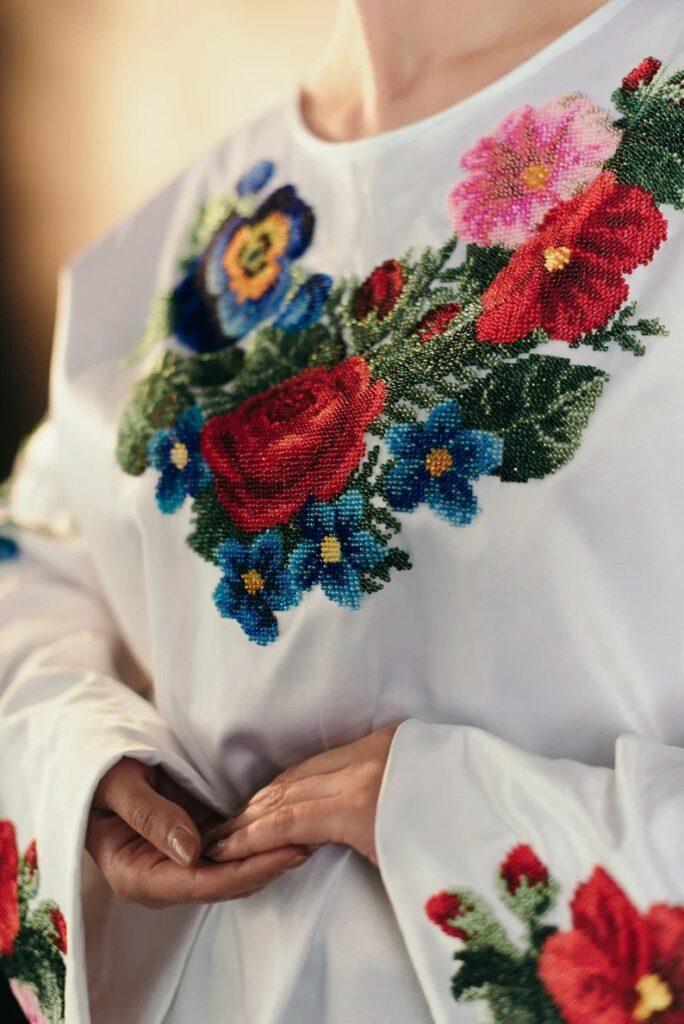 When it comes to fabric for bead embroidery, the possibilities are endless. However, some fabrics work better than others. Here are a few options:
Cotton: This is a popular choice because it is easy to work with and comes in a variety of weights.
Silk: This is a luxurious fabric that is often used for special occasion clothing.
Wool: This fabric is warm and cozy and can add a unique texture to your designs.
Denim: This sturdy fabric can hold up well to heavy beadwork.
How to Prepare Your Fabric for Bead Embroidery
Before you begin bead embroidery on your fabric, you will need to prepare it. Here are the steps:
Wash and dry your fabric to remove any sizing or dirt.
Iron your fabric to remove any wrinkles.
Mark your design onto the fabric using a fabric pen or pencil.
How to Start Bead Embroidery on Clothing
Now that you have your materials and fabric ready, it's time to start bead embroidery. Here are the steps:
Thread your needle with your chosen thread.
Tie a knot at the end of the thread.
Insert your needle from the back of the fabric to the front where you want to place your first bead.
Slide the bead onto the needle and push it down the thread until it reaches the fabric.
Insert your needle back through the fabric to the backside.
Tie a knot in the thread on the backside of the fabric.
Repeat these steps until your design is complete.
Exploring Techniques: From Basic Stitches to Intricate Designs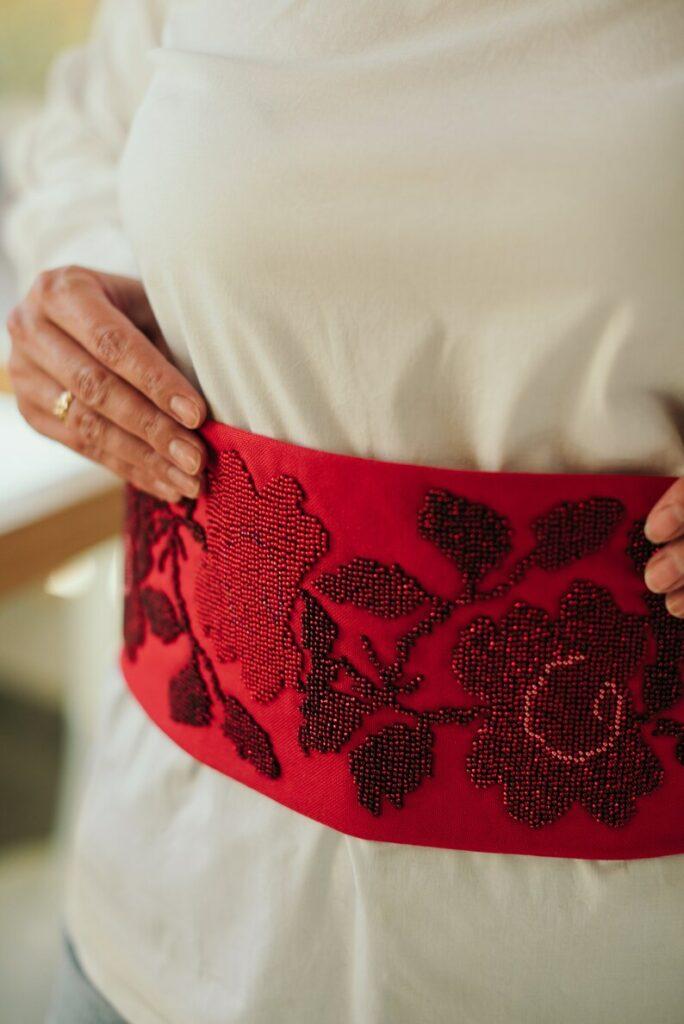 Bead embroidery on clothing encompasses a wide range of techniques, allowing artists to unleash their creativity. Here are some popular methods used in this art form:
1. Basic Bead Embroidery Stitches: Building the Foundation
Before diving into complex designs, it's essential to master the basic bead embroidery stitches. These stitches serve as the foundation for creating stunning patterns and motifs. Some common stitches include:
Backstitch: Ideal for creating outlines and borders.
Running Stitch: Perfect for attaching beads in straight lines.
Seed Stitch: Adds texture and depth by spacing beads closely together.
2. Bead Appliqué: Embellishing with Individual Beads
Bead appliqué involves attaching individual beads directly onto the fabric to create intricate designs. This technique allows for precise placement and meticulous detailing. From floral motifs to geometric patterns, bead appliqué offers endless design possibilities.
3. Beaded Fringe: Adding Movement and Dimension
Beaded fringe is a popular technique used to add movement and dimension to clothing. By attaching strands of beads along the hemline or edges of a garment, you can create a captivating visual effect. This technique is often employed in dance costumes, evening gowns, and accessories to enhance their allure.
4. Bead Embroidery Patterns: Unleashing Creativity
Bead embroidery patterns are pre-designed templates that guide artists in creating complex designs. These patterns provide a roadmap for bead placement, allowing for consistent and symmetrical designs. With an extensive range of patterns available, you can explore various themes, from nature-inspired motifs to abstract geometric shapes.
Conclusion
In conclusion, bead embroidery on clothing is a wonderful way to express your creativity and add a unique touch to your wardrobe. With just a few materials and some basic techniques, you can transform plain fabric into a stunning work of art. Whether you're embellishing a simple t-shirt or creating an intricate design on a formal dress, bead embroidery allows you to customize your clothing and make it truly one-of-a-kind.
Throughout this guide, we've covered the basics of bead embroidery on clothing, including the materials needed, types of beads and fabric to use, as well as the step-by-step process to get started. We've also provided some useful tips to help you achieve the best results and overcome any challenges along the way.
Remember, bead embroidery is a versatile technique that can be adapted to suit your personal style and preferences. You can experiment with different bead sizes, shapes, and colors to create endless design possibilities. Whether you prefer a subtle and delicate look or a bold and vibrant statement, bead embroidery allows you to bring your vision to life.
So why settle for ordinary, mass-produced clothing when you can showcase your individuality through bead embroidery? Unleash your creativity, let your imagination soar, and start transforming your wardrobe today. With a little practice and patience, you'll soon be creating stunning bead embroidery designs that will turn heads and make you feel proud of your unique style.