Are you looking for a unique and stylish addition to your footwear collection? Look no further than the beaded shoes! With their intricate and eye-catching designs, these shoes are sure to make a statement wherever you go. In this article, we'll explore the history of the beaded shoe, different styles and materials available, and how to wear them with confidence.
What is a Beaded Shoe?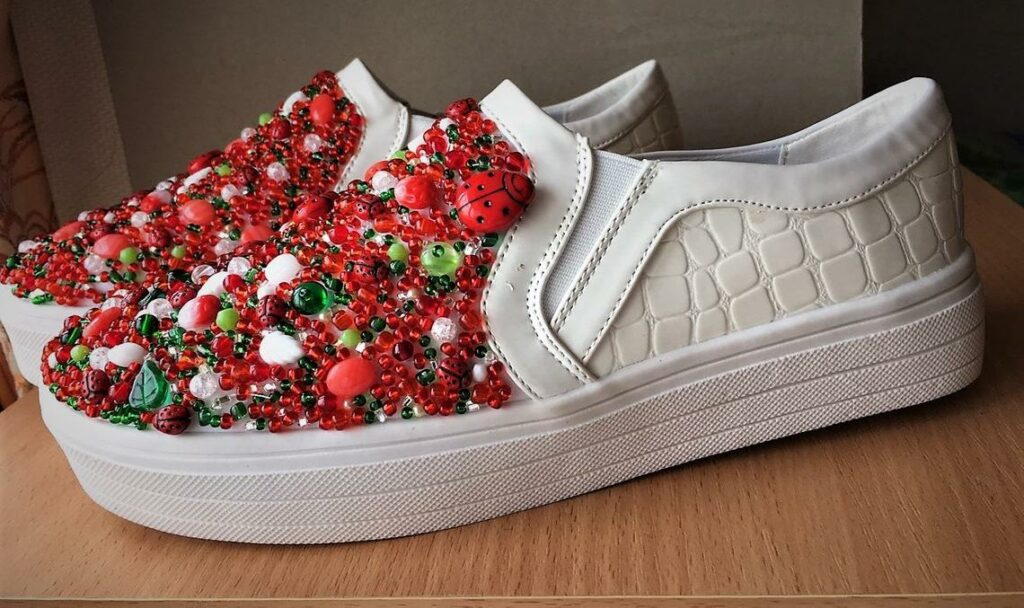 A beaded shoe is a type of footwear that is decorated with beads. The beads can be sewn directly onto the shoe or onto a separate piece of fabric that is then attached to the shoe. Beaded shoes can come in a variety of styles, including sandals, flats, and heels, and can be made with different types of materials such as leather, canvas, or silk.
The History of Beaded Shoes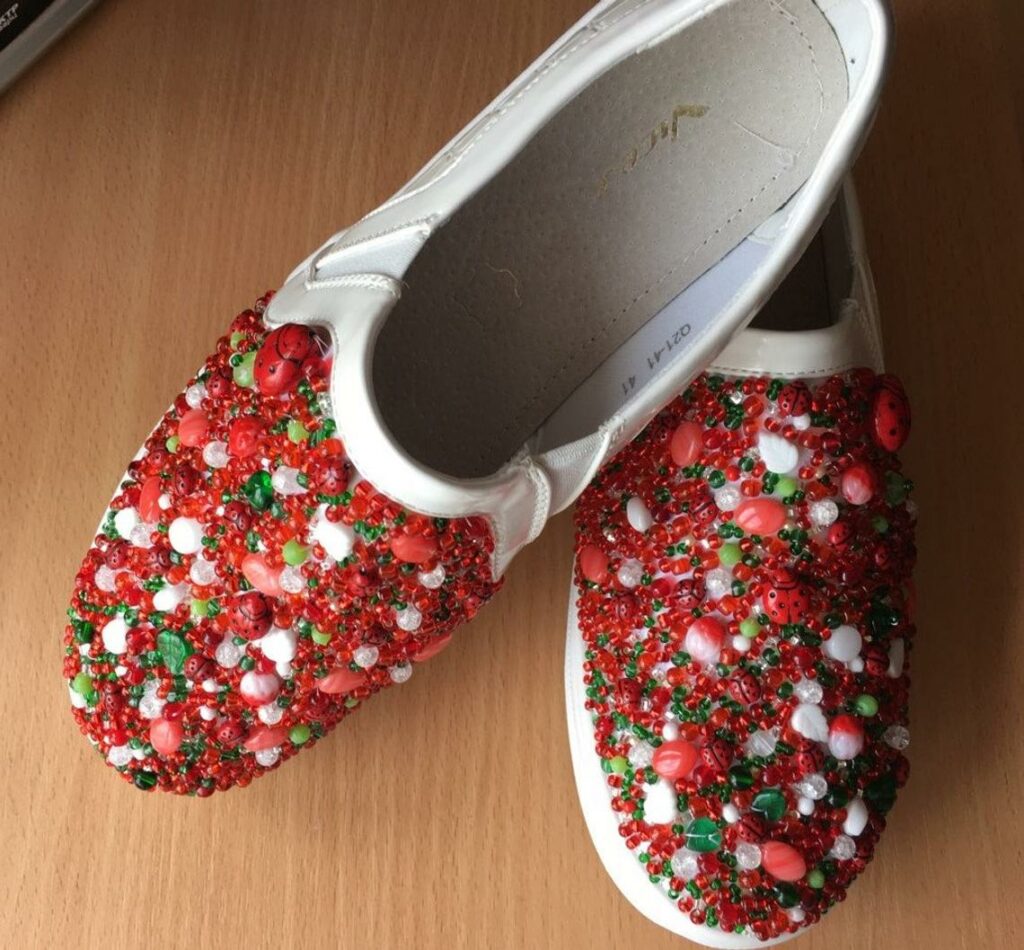 Beaded shoes have a long and fascinating history. They were originally worn by indigenous peoples around the world, who used beads as a way to decorate their footwear and express their cultural heritage. In North America, Native American tribes such as the Iroquois, Cherokee, and Navajo created intricate designs using beads made from shells, animal bones, and stones.
In Africa, the Maasai people of Kenya and Tanzania traditionally wore beaded sandals as a sign of social status, with different colors and patterns representing different tribes and clans. Meanwhile, in Asia, the intricate beading of the Chinese Manchu shoe symbolized the wearer's wealth and status in society.
Today, beaded shoes are popular all over the world, with modern designers drawing inspiration from traditional styles and creating their own unique interpretations.
Different Styles and Materials of Beaded Shoes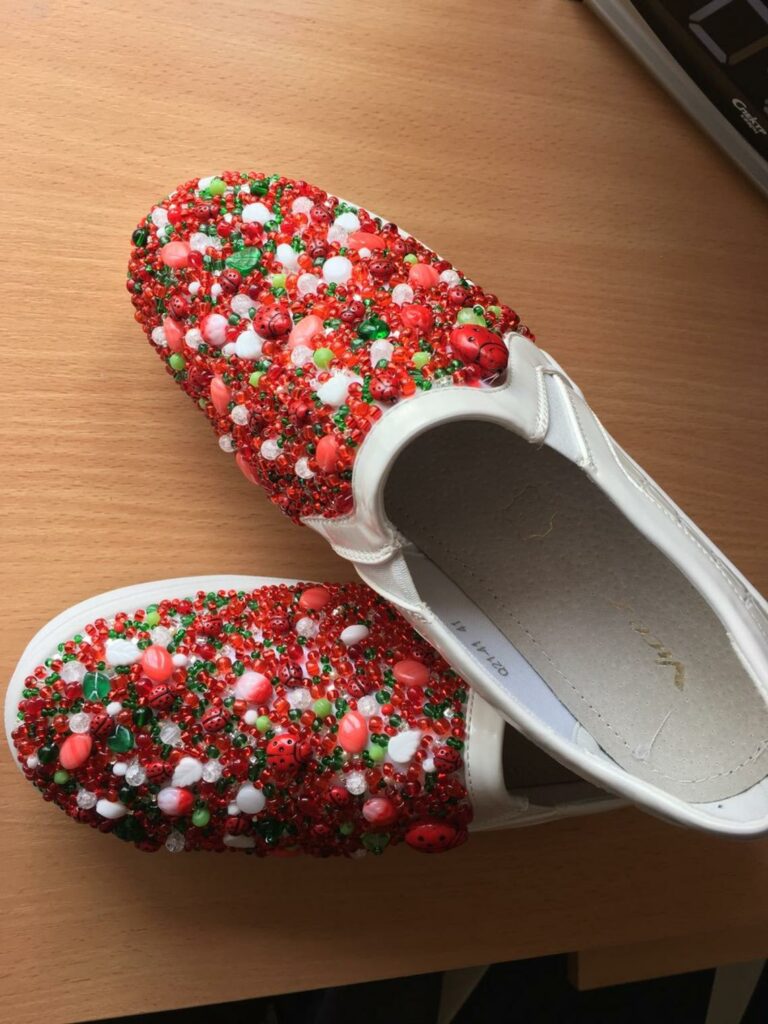 Beaded shoe come in a variety of styles, from casual sandals to elegant pumps. Here are a few of the most popular styles:
Beaded Sandals
Beaded sandals are perfect for warm weather and casual occasions. They often feature colorful beads woven into a simple leather or fabric design. Some styles may also have beaded straps or tassels for added flair.
Beaded Flats
Beaded flats are a comfortable and stylish option for everyday wear. They may feature a simple beaded pattern or a more intricate design, and can be paired with anything from jeans to a summer dress.
Beaded Pumps
For a more formal look, beaded pumps are a great choice. These shoes often have a classic silhouette with a twist, featuring a beaded design on the toe or heel. They're perfect for a night out or a special occasion.
Beaded Boots
Beaded boots are a bold and statement-making choice. They can feature intricate beadwork all over the boot, or a more subtle design on the toe or shaft. They're perfect for adding some personality to a simple outfit.
In addition to different styles, beaded shoes can also be made from a variety of materials. Leather is a popular choice for its durability and classic look, while fabric and synthetic materials offer more variety in color and design.
How to Wear Beaded Shoes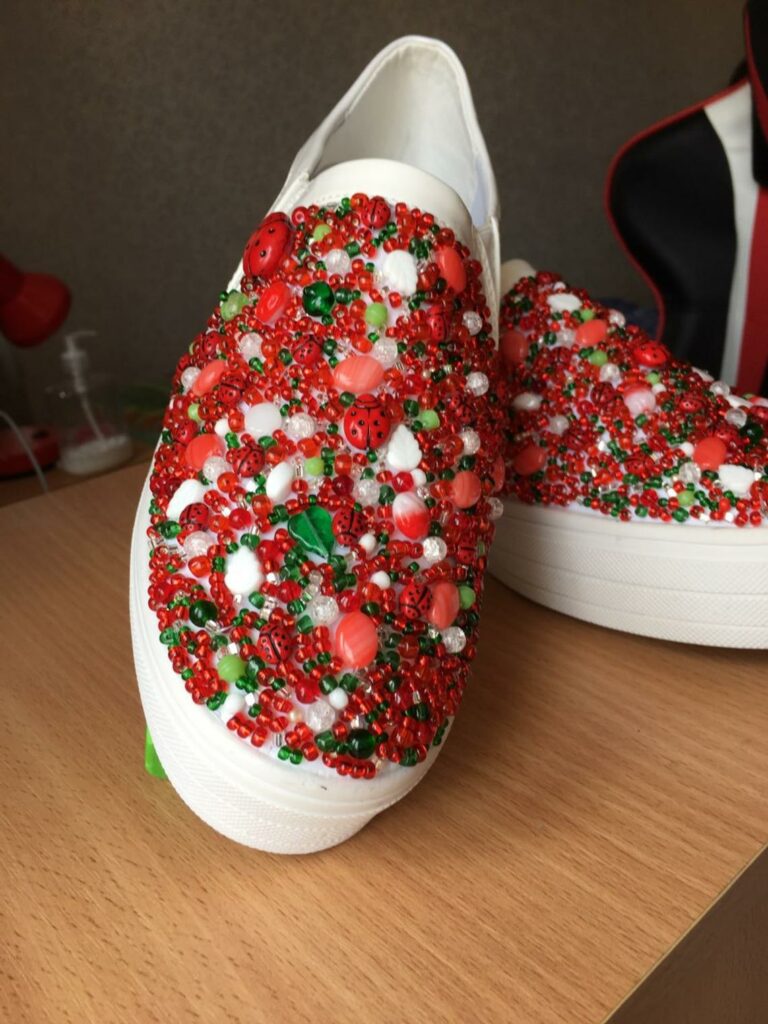 Now that you've chosen your perfect pair of beaded shoes, it's time to figure out how to wear them with confidence. Here are a few tips:
Keep it simple
Beaded shoe are a statement piece on their own, so it's best to pair them with simple, neutral clothing. A white t-shirt and jeans, or a black dress, are great options.
Let them shine
If you're wearing beaded flats or sandals, consider wearing ankle-length pants or a knee-length skirt to show off your shoes. For beaded pumps or boots, tuck your pants in or wear a shorter skirt to showcase the design.
Accessorize carefully
When wearing bead embroidered shoes, it's best to keep accessories minimal. A simple necklace or earrings can add some sparkle without competing with the shoes.
Match the color
If your bead embroidered shoes have a dominant color, try matching your outfit to that color for a cohesive look. For example, if your shoes have blue beads, wear a blue top or scarf
Benefits of Beaded Shoes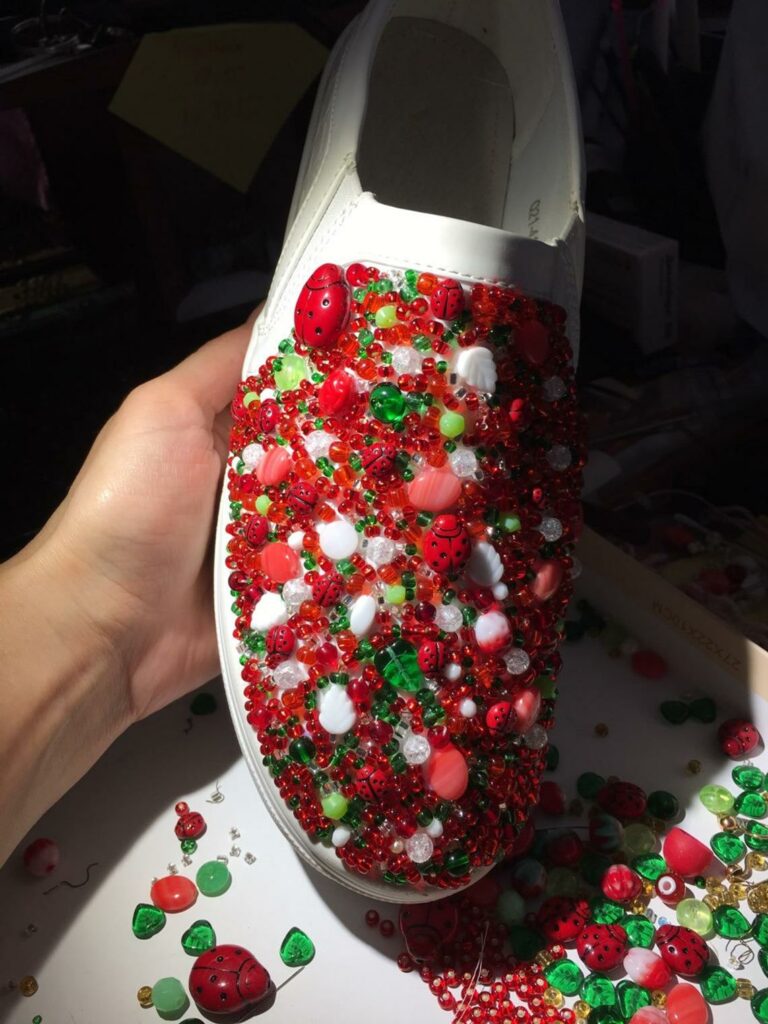 There are many benefits to wearing beaded shoes. Here are just a few:
Unique Style
Beaded shoes are a great way to add some unique style to your wardrobe. With so many different styles and designs to choose from, you are sure to find a pair that suits your personal taste.
Versatility
Beaded shoes can be dressed up or down, making them a versatile addition to your wardrobe. Pair them with jeans for a casual look or with a dress for a more formal occasion.
Comfort
Beaded shoes can be just as comfortable as any other type of footwear. Look for shoes with padded insoles or arch support for added
FAQ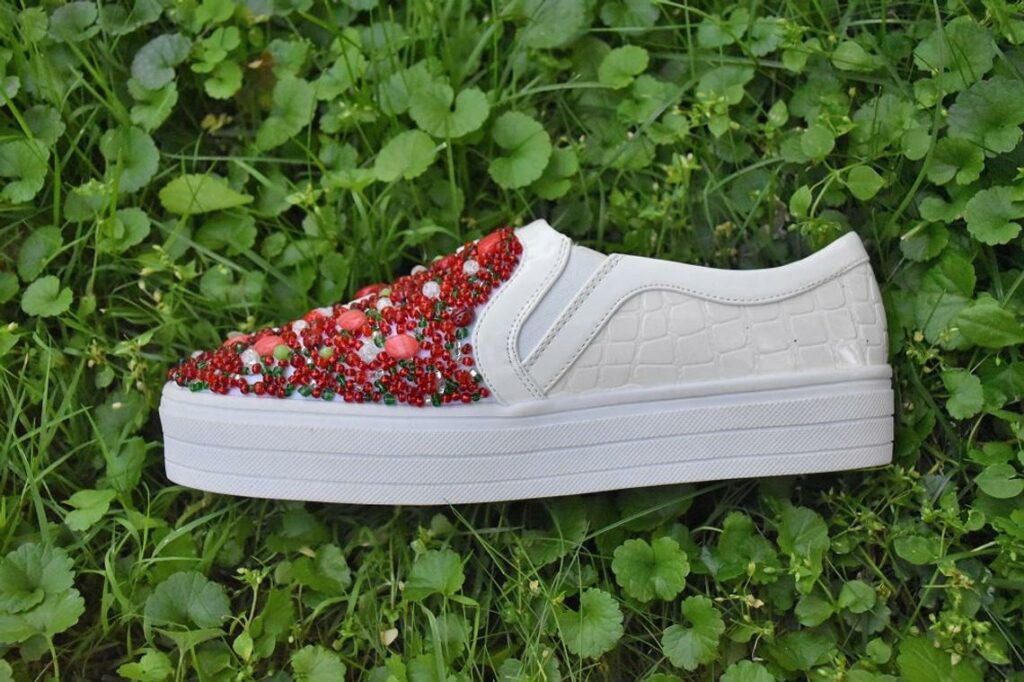 1.  What are beaded shoes?
Bead embroidered shoes are shoes that have intricate designs made from beads. They have been around for centuries and have been used as both functional and decorative footwear.
2. What materials are used to make beaded shoes?
The materials used to make bead embroidered shoes vary depending on the style and design. Some popular materials include leather, fabric, suede, and canvas.
3. Are beaded shoes comfortable to wear?
Bead embroidered shoes can be comfortable to wear, but it depends on the style and fit. Look for shoes with a cushioned sole and a good arch support to ensure maximum comfort.
4. Can beaded shoes be worn in the rain?
Bead embroidered shoes are typically made from delicate materials, so they should be avoided in wet weather. If you must wear them in the rain, be sure to protect them with a waterproof spray.
5. How do I clean my beaded shoes?
To clean bead embroidered shoes, use a soft cloth or brush to gently remove any dirt or debris. Avoid using harsh chemicals or submerging the shoes in water, as this can damage
6. What occasions are beaded shoes suitable for?
Bead embroidered shoes can be worn for both casual and formal occasions. They are perfect for summer days, beach trips, and can even be dressed up for weddings or other formal events.
7. Are beaded shoes expensive?
The price of bead embroidered shoes varies depending on the brand, style, and materials used. Some beaded shoes can be quite expensive, while others are more affordable.
8. How can I incorporate beaded shoes into my wardrobe?
Bead embroidered shoes can be worn with a variety of outfits. Try pairing them with a solid-colored dress or jeans and a plain top to let the shoes take center stage. You can also mix and match them with prints and patterns to add a pop of color and texture to your outfit.
Conclusion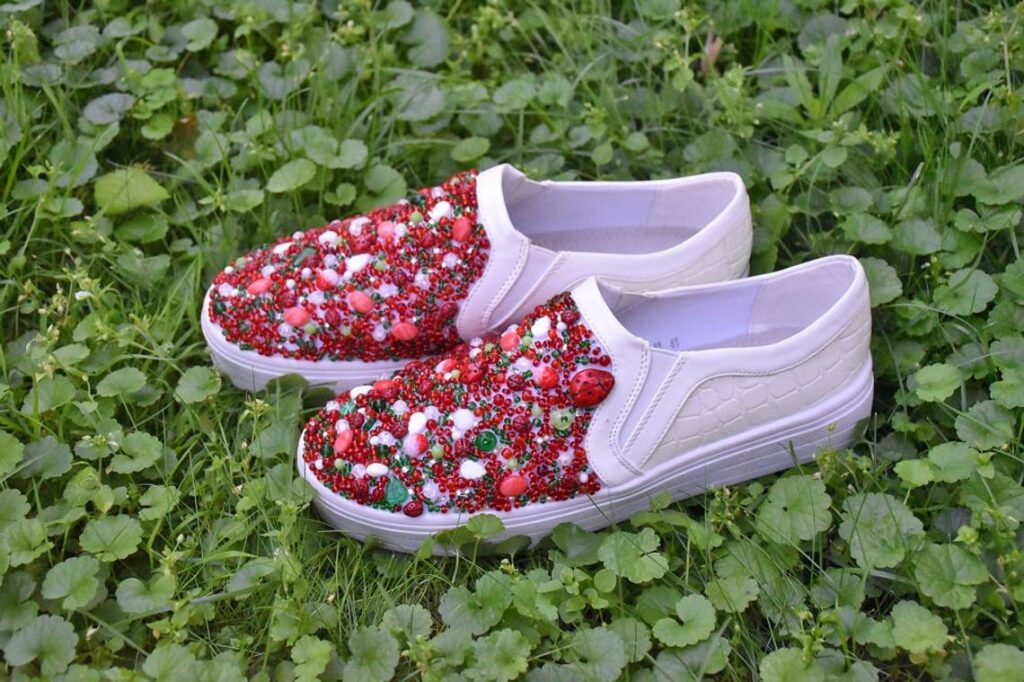 In conclusion, the bead embroidered shoes is a beautiful and unique type of footwear that has been around for centuries. Whether you're looking for a casual summer shoe or a fancy dress shoe, there is a bead embroidered shoes that will fit your style and occasion. While bead embroidered shoes may require a little extra care and attention compared to other types of shoes, their intricate designs and stunning colors make them worth the effort. So, the next time you're looking for a new pair of shoes, consider adding a beaded shoe to your collection. You won't be disappointed with the result!
Remember, when caring for your bead embroidered shoes, always follow the manufacturer's instructions and avoid exposing them to water or harsh chemicals. With proper care, your beaded shoes will last for years and continue to bring joy and beauty to your wardrobe.